Indiana Historical Radio Society
33rd Annual Meet
Kokomo, Indiana -- April 30-May 1, 2004
CONTRIBUTED BY HERMAN GROSS
Web Edition
The Indiana Historical Radio Society (IHRS) held its 33rd annual spring meet at the Johanning Civic Center in Kokomo, Indiana, on April 30-May 1, 2004. The meet was well attended and members and visitors alike came, not only from Indiana and the contiguous states of Ohio, Michigan, Kentucky and Illinois, but also from such distant places as South Carolina, Georgia, Florida, Missouri, Texas, California, and Oregon. In all, 122 families attended.
The theme of this meet was the 50th anniversary of the Regency TR-1 pocket transistor radio. Especially significant to those of us in the Indiana group is that the TR-1 was developed and built in Indianapolis. Several very interesting and extensive displays of TR-1 history and memorabilia were offered.
The highlight of the meet was the auction held Saturday at 1:00 p.m. Of particular interest was the very rare Atwater Kent 12C breadboard selling at $1,300. This was the Cadillac of Atwater Kent breadboards and less than 8,400 were manufactured. Who knows how many remain.
Max Scott Auction Service moved 136 lots along with ease, and proceeds amounted to $4,710. All prices have been rounded down to the dollar.
e=excellent, vg=very good, g=good, f=fair, p=poor, unk=unknown condition, N.O.S.=new old stock, wk=working, nwk=not working, WT=with tubes, NT=no tubes.

This Atwater Kent 12C, the highlight of the auction, sold for $1,300.
A warning: Auction prices are not current values. Our selection of auction items is not necessarily complete. A listing such as this cannot adequately include the condition of cabinets, chassis, transformers, tubes, the operating status of the set, and the inclusion of incorrect, restored or replica components, etc. Auction prices are the result of the excitement of the auction process, the skill of the auctioneer and the specific interests of the participants. Nevertheless, auction prices serve as useful references and as another element in the value determining process. The possibility of error always exists, and if we are notified, corrections will be reported.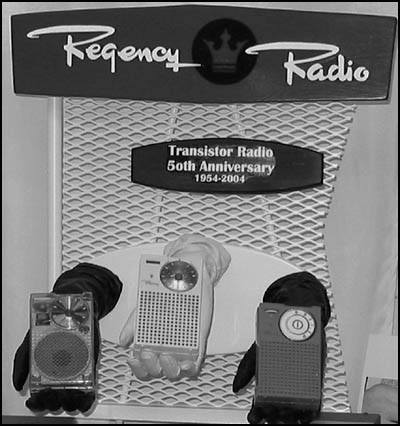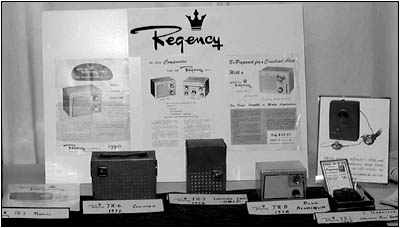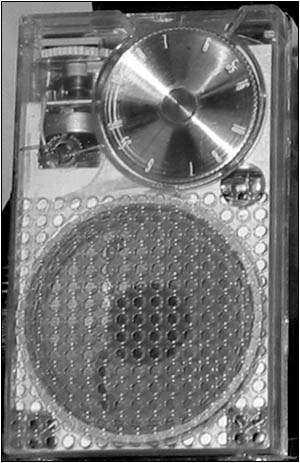 These displays were inspired by the theme of the IHRS meet: the 50th anniversary of the Regency TR-1 transistor radio. The upper photo shows Bill Morris' Regency TR-1 display which includes Bret Phillips' clear TR-1, also shown in close-up in the lower photo. The middle photo shows Ed Taylor's Regency display.
(Herman W. Gross, 1705 Gordon Drive, Kokomo, IN 46902)
The Indiana Historical Radio Society (IHRS) publishes the IHRS Bulletin quarterly. Quarterly swap meets are held in various parts of the state, while a 2-day meet and an auction take place in the spring. For more information write IHRS, 245 N. Oakland Ave., Indianapolis, IN 46201. Web site: http://home.att.net/~indianahistoricalradio.